First post! I've recently gotten back into the habit of trying lots of instant noodles again.

product name
: Instant Noodle Cup Maukashinagarno Sauce Yakisoba
country of origin
: Japan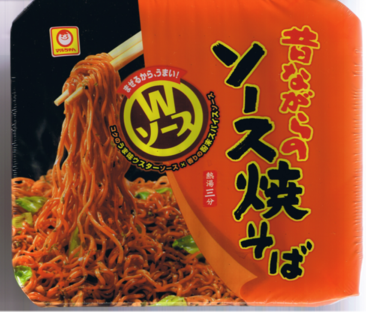 making


After waiting, the cover is then opened at point C (oppisite to point A) and under the plastic is this little alfoil affair with slots that allows the water to exit, but not the noodles. The entire lid is then removed, and the sauce and flavourings added, and the whole thing is then mixed.
tasting
I've never been much of a fan of yakisoba, I'm more a ramen girl. There was also twice as much as I usually eat, so I wasn't able to finish, even when I made a yakisoba bread out of some of the leftovers. The noodles are short, which is a nice change, making them easier to eat (if you use chopsticks), and the cabbage reconstituted surprisingly well. But yakisoba always seems to me rather bland and unpleasantly tasting of okonomiyaki sauce.
the verdict
3/5 An extra point for the cool container, but the noodles are otherwise fairly bland. If you're a fan of yakisoba, go for it.